As an Amazon Associate I earn from qualifying purchases.
What is the Best Free Video Conferencing Software? At a time when teleworking is spreading across the world, it is essential to be able to communicate well in order to collaborate effectively as a remote team.
This is why in recent years, we have seen the arrival on the market of many video conferencing software allowing easy alignment.
What Is Video Conferencing Software?
Video conferencing software allows a company to make video calls to several people, thus making it possible to hold a meeting remotely.
How To Organize A Video Conference For Free?
An explosion of the video software market goes hand in hand with strong competition and free service! Indeed, many videoconferencing tools offer free plans to simply conduct remote meetings with your colleagues.
To do so, simply choose one of the software from the list below and you can hold a remote meeting for free.
What is the Best Free Video Conferencing Software?
Livestorm is a booming French startup that offers an intuitive and efficient platform. Livestorm is a basic webinar solution that has diversified to now offer an easy-to-use videoconferencing solution.
What we liked the most about Livestorm is the possibility of making spontaneous video calls without our interlocutors having to download any software or register on the site.
Livestorm goes further than its competitors by giving the possibility of making video calls to people without a Livestorm account, which can be very practical for sales or recruitment calls!
You share the Livestorm video link and they can reach you directly! This solution is however limited to a maximum of 12 people. If you want to make calls with more than 12 people, we still recommend that you use another solution from the list.
The use of Livestorm Meet Basic (4 people max) is free and Livestorm Meet Premium (12 people max) is free during COVID-19 otherwise the plan costs $109 / month.
Google Meet is a communication tool designed, as the name suggests, by Google and is a product that is part of the G Suite solution set.
Google Meet is offered in both a free and paid version and is a great solution for organizing your professional videoconferences.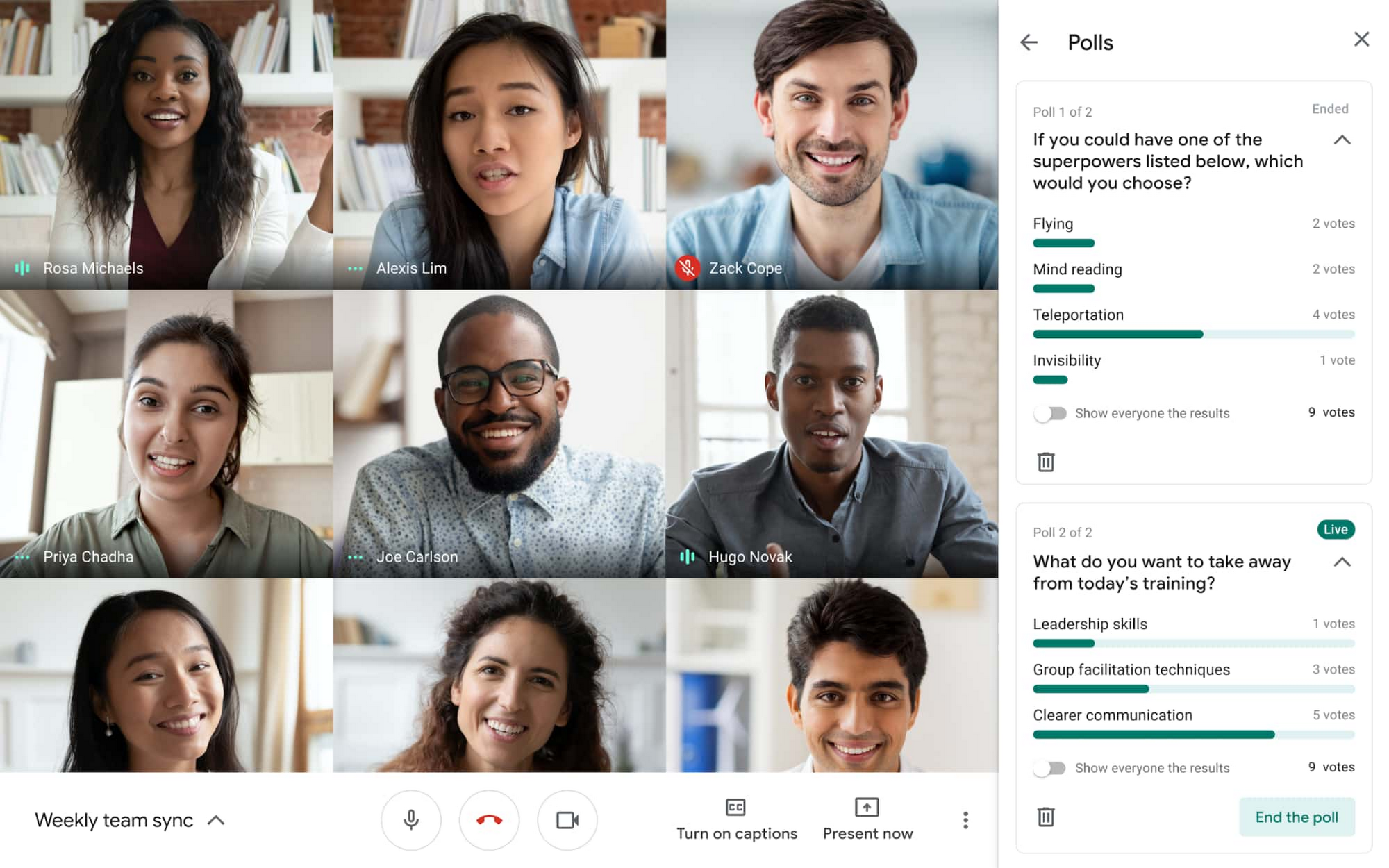 If you have a Google account then you can use Google Meet which is handy!
Integrations include other Google software, like Gmail, Google Docs, etc. Additionally, third-party services can be connected through Zapier or by using Google's designated API.
You will also like: the best collaborative platforms
Used by companies like Shopify and Trello, Whereby is a video communication service launched in 2013 and acquired by Videonor in 2017.
What we loved about Whereby is the fact that you can make calls without your contact having a Whereby account or downloading software like its competitor Livestorm.
Likewise, we have noted that when your connection is weak, Whereby performs better than its competitors and offers better picture quality.
Integrations include Google Docs, Trello Boards, YouTube, and Slack.
The downside is that some integrations are limited to work accounts and business accounts, which means you would be forced to upgrade even if you don't need user limits and other additions.
An important limitation in the free plan is that you can be a maximum of 4 people per call. So this will not suit everyone.
The offer starts at $ 9.99 / month and includes a freemium version for 1 user.
Zoom is one of the best-known video conferencing software on the market. Zoom has greatly emerged during the health crisis with the arrival in force of teleworking and to recover a lot of market share.
Zoom is useful if you want to make video calls with thousands of people at the same time because Zoom supports a very high parallel traffic load, which its competitors do not offer.
However, if you want to make calls to less than 100 people, we don't especially recommend Zoom since it has a few drawbacks:
A free version limited to 40 minutes per call Having to download software to your computer
Zoom is very popular in the world of video conferencing because of the many options included in each shot.
The platform also offers flawless video, crystal-clear audio, and instant sharing capabilities that make it our preferred option for video conferencing.
Slack is a communication software well known to the business world and especially to startups thanks to its extensive company chat. Slack also offers a video conferencing feature within the tool.
You can make 2-way calls as well as multi-person calls. This solution is practical because it is directly integrated into the chat but less efficient than the solutions dedicated to this subject.
It is recommended for making a quick call with your colleague but not for scheduling team meetings.
Even though GoToMeeting no longer dominates the video conferencing space, it remains a highly sophisticated remote meeting software, with a long list of features that would meet the needs of most business environments.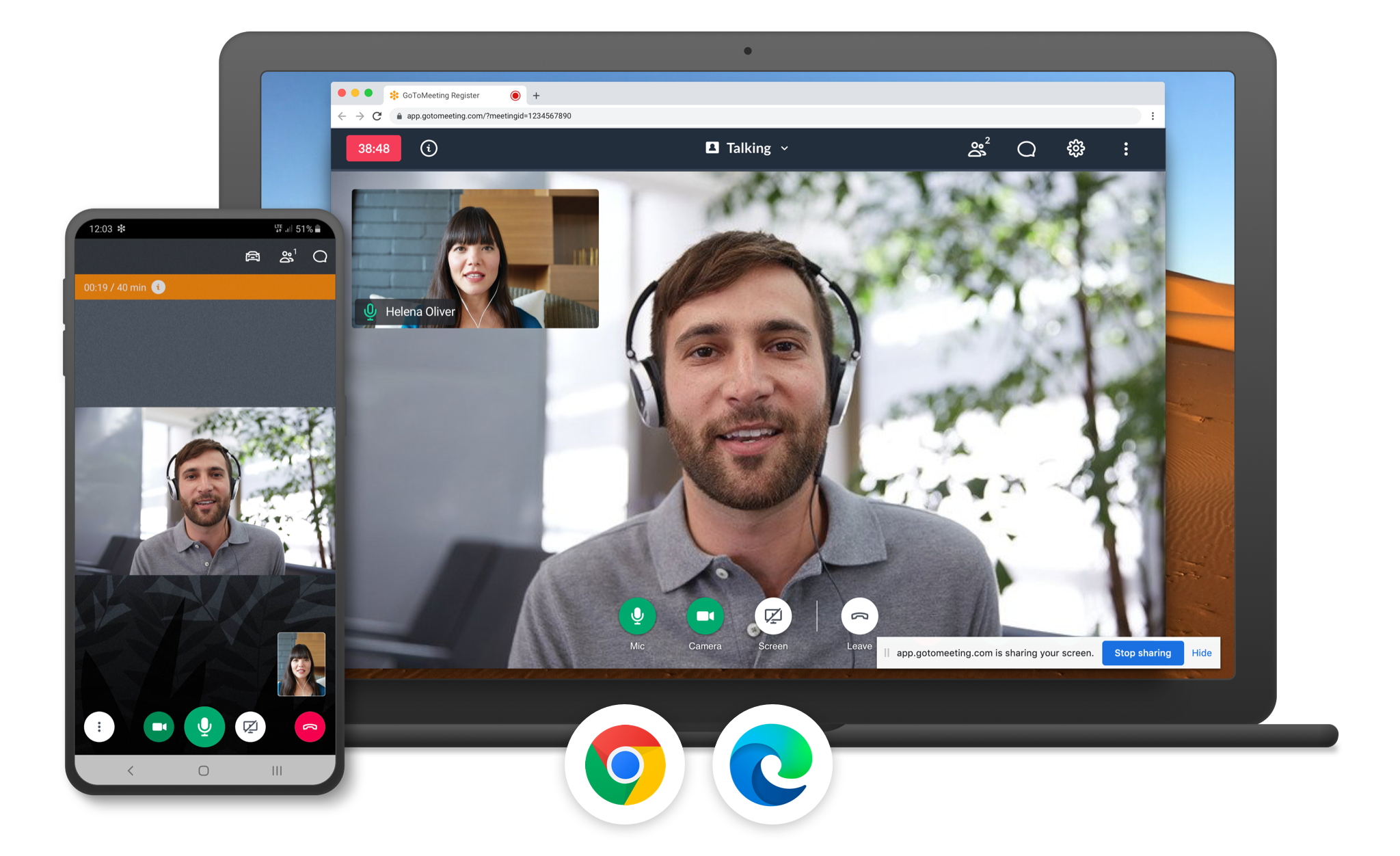 This user-friendly software has a few important advantages over its competitors, including its polling and "raise your hand" functions. In addition, GoToMeeting enables unlimited video meetings and secures those meetings with end-to-end encryption.
With a 14-day free trial, you can see for yourself the ease and convenience of the features.
GoToMeeting can bring together 10 to 250 participants, depending on the type of plan you get. However, the free version allows a maximum of three participants compared to 100 on other platforms.
Microsoft Teams is a project management solution that includes robust functionality for video calls and conference calls.
Microsoft Teams can be used as well by companies, universities, or even for personal!
However, Microsoft lost a few points in UX due to endless browsing and loading issues, which resulted in a decrease in usability especially in the daily use of the platform.
Microsoft Teams is available for free for some features, and paid plans start from $4.20 per user per month.