As an Amazon Associate I earn from qualifying purchases.
The hosting service offered by SiteGround is among the most renowned internationally. But is it really worth considering?
This is what we'll try to demonstrate to you throughout our SiteGround web hosting reviews.
Our teams were able to scrutinize all aspects of this host: performance, customer service, administration interface, and more.
What is SiteGround?
The company behind SiteGround was created in the course of 2004, in Sofia, Bulgaria.
By quickly browsing the presentation page of its official website, we could see that the company has no less than 500 employees in its offices around the world (Bulgaria, Spain, London, as well as in the United States).
And on the customer side, the only information we could find concerns the number of domains managed: 2,000,000.
SiteGround, like many other hosts (for example Bluehost ), offers a domain name registration and purchase service. On the other hand, no corporate email service exists.
Pros:
Great WordPress hosting features that include a one-click installer, Git Integration, WordPress Staging, WP-CLI, SuperCacher, and automatic updates.
All SiteGround hosting plans currently offer a free domain as well as a 30-day money-back guarantee for re-registration.
High performance and secure hosting technology that includes: SSDs Memory, Content Delivery Network (CDN) – Cloudflare, and the latest version of PHP7 and Nginx server.
Simple user experience with many tools at your disposal.
Knowledgeable, efficient, and friendly customer support. They are very responsive and will not hesitate to go beyond the framework of the technical support provided to help you!
Cons:
The shortest billing cycle is 12 months.
Limited storage compared to other hosts for the same price or less.
Complex reseller plans
Backup system that could be simpler
No more free site migration
Renewal prices are high after the first year!
SiteGround Web Hosting Reviews in Details
Performance: availability, loading, and speed
If you've never had the opportunity to read one of our web host reviews, know that we pay special attention to the performance and speeds offered.
To do this, our team subscribes to one of the hosting offers (shared hosting in the case of our SiteGround review) and extensively tests the loading times, the stability of the site, etc.
What is it then? On the availability rate side, we can confirm that the uptime announced by SiteGround is correct. We noted the availability of approximately 99.8%.
For those who do not know what this number corresponds to, it represents the rate of availability of accommodation over a full year. The value read may seem good but in reality, it is not really the case.
It is equivalent to a type 2 data center (level 4 was the best level). To give you an idea, an availability rate equal to 99.8% corresponds to the unavailability of your website for practically one day per year.
At least! Whether or not this is acceptable to you is up to you.
As for the velocity of SiteGround hosting, our opinion is also more than mixed. We invite you to discover the results of the surveys that we were able to carry out with our test platform on GTMetrix and Pingdom:
Test performance GTMetrix SiteGround
Test performance Pingdom SiteGround
GTMetrix and Pingdom are two sites that allow you to assess the speed of your website.
And the results are clear: the loading time is disappointing. On average, our site was almost a second slower to load than with a web host like Hostinger.
You will therefore understand that our opinion regarding the performance of SiteGround is disappointing.
SiteGround administration interface
To start this section of our SiteGround review, we want to make two important things clear to you:
all client/administration interfaces are in English
cPanel is no longer used by the host
Now that we have made this point, we will be able to give you our feelings about the interface that was set up by SiteGround.
Because yes, it has changed recently in order to definitively abandon cPanel (because it is considered too limited, which we regret but understand).
To be perfectly honest with you, the proposed administration interface is a real success. It is simple, ergonomic while being very complete in terms of the features offered.
For example, you will find advanced management of your FTP, backups, your databases, etc.
SiteGround administration panel
As much to say to you that it will be appropriate as well for a beginner, as for a seasoned person needing to have access to more technical options.
Proof of this is with the screenshot below, it is very easy to create a new website on WordPress, WooCommerce, and even Weebly.
SiteGround website creation interface
If you want to migrate your existing website to SiteGround, the process will also be very simple. In a few clicks, you will be able to perform this migration.
As detailed in the section listing the strengths of SiteGround, the host will also allow you to carry out this process with one of their experts.
As you can see, our opinion on the SiteGround administration interface is extremely good. Unlike the section dealing with performance, we have nothing to reproach the host.
Security and protection
To ensure the safety of visitors to your site, or even your hosting, SiteGround puts several things in place.
First of all, it is good that you know that an SSL certificate will be offered with every hosting. This will allow you to properly protect visitors to your site.
On the hosting side, SiteGround of course has a firewall that is constantly updated in order to add new rules. The goal is to ensure the integrity of all hosted sites.
In addition, a backup of your hosting space is performed every day. This will allow you to quickly restore data if necessary (false manipulation, malicious attack, etc.).
Is an additional layer of security in place to protect my customer area? Yes quite. SiteGround offers a double authentication feature that will allow you to improve the security of your account.
You will simply have to go to your personal space to configure it.
Our opinion on the customer support of the SiteGround host
If you are wondering what the customer support offered by SiteGround is worth, you couldn't be better.
After testing the host for many months, we are in the best position to give you our feedback.
Support client SiteGround
The first thing to know is that SiteGround customer support is available through:
live chat (both pre-sales and technical support)
ticket system
phone.
Overall, it's excellent!
Moyens contact support client SiteGround
We have found SiteGround's customer support to be quite responsive and above all knowledgeable.
One last clarification, however: you can get assistance 24 hours a day, 7 days a week through the 3 means of contact made available.
Types of Plans and pricing
So far, you may have seen that our opinion of SiteGround is rather mixed. Particularly with regard to the performance of their accommodation.
In spite of everything, we will get down to presenting the various plans offered so that you can see for yourself the prices in force.
Shared hosting
The shared hosting offered by SiteGround is available in 3 variations. Here is the detail :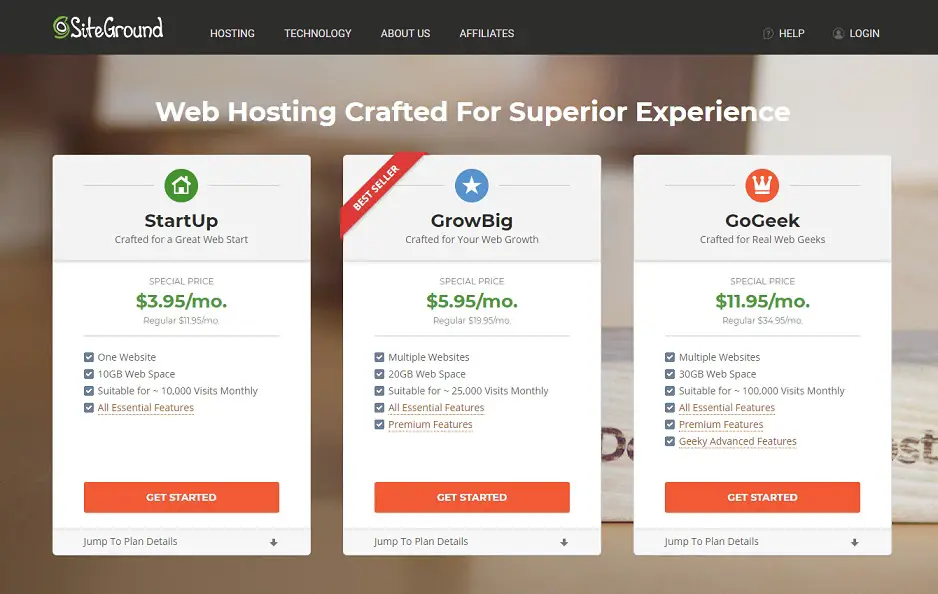 To be completely honest with you, we find that the price/quality ratio is not there. What is proposed from a technical point of view seems too limited to us.
And it is not the "Performance" part of our SiteGround review that will contradict this thought. Especially that even for $11.95/month (with the GoGeek subscription), you will not be entitled to a free domain name.
Do not hesitate to go to the official website of the host to make your own opinion on its shared hosting. For us it's clear, it is better to avoid it and turn to shared hosting of better quality.
Who is this plan for? SiteGround's shared hosting is its #1 offering. Thanks to 3 variants, it turns out to be suitable for beginners as well as for people with more substantial needs.
WordPress hosting
SiteGround's WordPress offer is technically identical to the shared offer.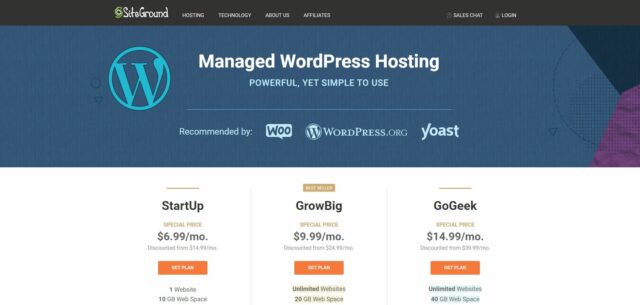 The only difference is that you will have access to an automatic wizard that will allow you to quickly and easily install WordPress on your hosting.
In addition, you will have access to a free migration tool (as stated above in our SiteGround review).
When it comes to performance, don't expect miracles. You will get the same results as with shared hosting.
We also regret the fact that no information is given regarding the technical specificities of this plan. How many CPUs are allocated? How much RAM?
The only information we have at this level is the disk space (which is very low – from 10 GB) and the maximum number of visitors (from 10,000).
What is this plan for The WordPress plan is for only people who want to create a website from WordPress. It's as simple as that! If you prefer to use another CMS, you will simply have to go to shared hosting which is very similar.
WooCommerce hosting
WooCommerce hosting also comes in 3 variations. These are exactly the same as for shared hosting and WordPress: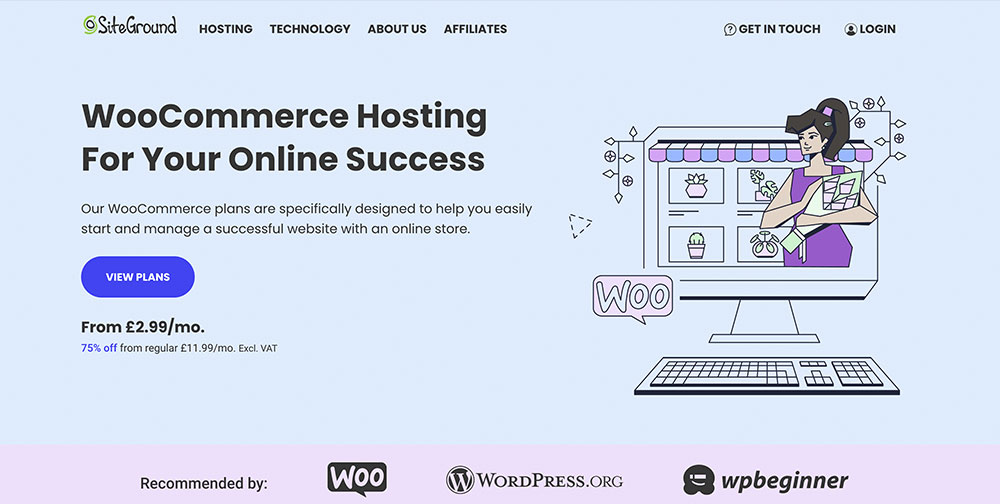 We're not going to rehash our opinion of SiteGround's performance, but it's clearly mediocre.
In the worst-case scenario, if you still want to try building an online shopping site through SiteGround, you can always rely on the 30-day money-back guarantee. Since it's unconditional, you don't have much to lose.
Who is this plan for like WordPress hosting, the WooCommerce offer will only suit those who want to create an E-Commerce site through WooCommerce?
In terms of performance, with 3 distinct solutions, this plan will meet the needs of creating a first online store, or an already well-developed sales site.
Cloud hosting
In our view, this SiteGround offer is far from the best Cloud hosting. Why? Well, there are many reasons, but the disappointing quality/price ratio is predominant.

And the worst part is that for such a price, you won't even get what you pay for. We noticed that the minimum configuration was not interesting (the latter offers more CPU, RAM, and disk space).
To sum up, we cannot recommend this type of plan. Especially since you will only be entitled to a 14-day money-back guarantee this time (compared to 30 in normal times). This will prevent you from testing your Cloud hosting for a long time.
Who is this plan for as the Bulgarian host suggests, its cloud hosting offers are aimed exclusively at a professional audience?
Additional information about SiteGround
Do you find our review on SiteGround complete? If so, all the better, but we are not yet done with our analysis of the host.
Indeed, we still have a certain number of points to deal with in order to offer you the most complete overview possible.
The free domain name at SiteGround: does it exist?
To begin this section of our SiteGround review, we would like to remind you that no domain name will be offered by the Bulgarian host. This is not an end in itself but we regret despite everything that such a thing is not proposed.
Does SiteGround offer free web hosting?
We'll get right to the point: no SiteGround does not offer free web hosting.
But we absolutely do not hold it against him. For the simple reason that free hosting is very limited and unreliable if you want to build a serious website.
Doesn't that scare you and you want to start with free hosting at all costs? In this case, take a look at our comparison of the best free hosts.
Buying a domain name
It is not easy to find the page related to the purchase and registration of a domain name on the SiteGround site as long as the option exists.
A large number of different extensions are offered. On the other hand, we would like to point out that the prices charged are far from being the most attractive.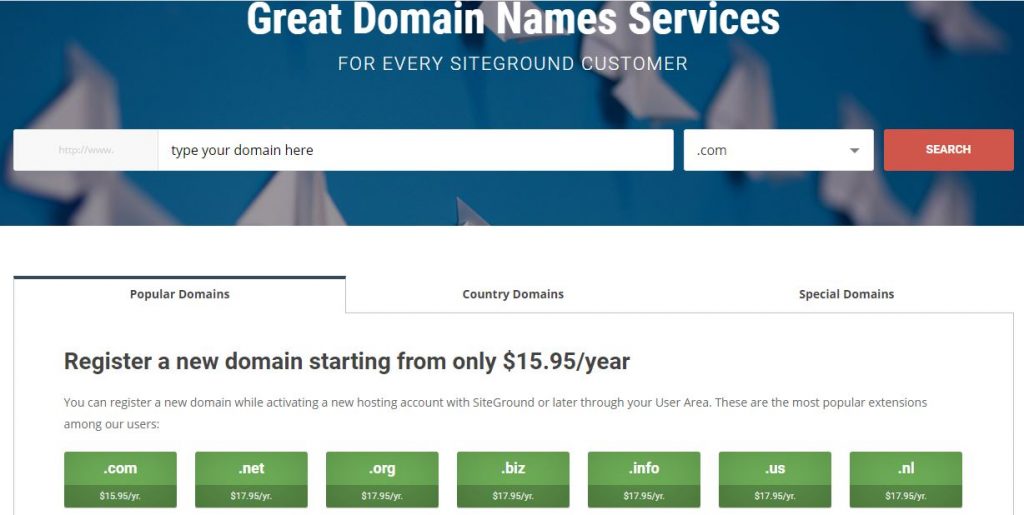 The prices are much higher at SiteGround. This is why we advise you to look elsewhere to register a domain name.
30-day money-back guarantee
You could see it during the presentation of the different hosting offers offered by SiteGround: the host offers a 30-day money-back guarantee.
It will allow you to test any hosting without obligation. In case of disappointment, you may demand a full refund.
The only condition for all of this is that you will have to do it before the end of this 30-day period (it starts on the date of your subscription).
Once the 30 days have passed, SiteGround obviously reserves the right to refuse your refund request. What we can understand.
So don't go about it at the last moment.
Where are SiteGround's data centers located?
As we said in the introduction to our SiteGround review, the host comes from Bulgaria. However, it does not have data centers there.
SiteGround has data centers in other countries including:
the Netherlands (Ems)
Germany (Frankfurt)
the United Kingdom (London)
the United States (Iowa)
Singapore
and Australia (Sidney).
You can still rely on its data centers in Germany or London. This somewhat offsets the negative opinion we have on the subject.
Final Verdict
In conclusion of our SiteGround web hosting reviews, SiteGround is, without a doubt, one of the recognized leaders in customer service within the web hosting industry.
They have focused on this point with a strong commitment to quality and unique and personalized solutions that they have built for their clients.
On the development side, they spend a lot of time testing UX, demonstrating their commitment to a better user experience. They have just redesigned their customer account management interface.