As an Amazon Associate I earn from qualifying purchases.
If you are looking for a good web host, your approach may be hampered by the multitude of offers you find on the net. Indeed, it can be difficult to navigate, both in terms of quality and price.
This is why in this article we present our full test and detailed review of the Hostinger, which is one of the best (not to say the best) available today.
Hostinger is a web hosting service provider and the company that markets it was established in 2004, initially under the name "Hosting Media", evolving into "Hostinger" from 2011.
With these years of experience, Hostinger now has no less than 29 million users around the world, which says a lot about its quality and reliability.
So to be sure, discover our Hostinger web hosting review without further delay.
What is Hostinger?
If you've never heard of Hostinger, know that it is one of the cheapest web hosts on the market today.
The company was founded in 2004 under the name of Hosting Media and started to gain serious recognition in 2007 with its free hosting offer called 000webhost.
It was only in 2011 that the name Hostinger appeared. And since then, the rise has been simply meteoric. In 2014, the company had 10 million users, and in 2017, 29 million.
This more than rapid expansion inevitably leads us to ask ourselves a number of questions. Does this web host really deserve all this attention?
Does he respond to the quality and reliability of his services? We have verified all of this in extensive testing.
With this in mind, we subscribed to a hosting offer (premium shared hosting), created a website from A to Z, and observed the performance offered for several months.
Want to know what our take on Hostinger is as a result of all of this? Let's see what you need to know about this very reputable web host.
Pros:
Unbeatable prices
The multitude of offers and types of accommodation
Responsiveness of customer service
Impeccable uptime
LiteSpeed ​​server available for free with most plans
The domain name and SSL certificate offered
Excellent speeds
Cons:
Some translation errors in the administration interface
No customer support via phone
Hostinger Web Hosting Review in Details:
Performance, availability, loading, and speed
The most important aspect to us in the context of this Hostinger review is the performance test offered.
This involves checking the availability of service, the loading time of our site, as well as the overall browsing speed.
During those months of testing, we saw an uptime of around 99.995%. This clearly makes Hostinger one or even the most reliable hosting provider on the market.
To give you an idea, such availability represents a discontinuity of service of only a few hours over a year.
Having a website available at all times is good, but if it doesn't load quickly when you open it, you risk scaring your readers away. That's why you really have to pay special attention to the loading time.
Hostinger has data centers in Europe (including UK, Netherlands, and Lithuania), the US, Brazil, and Asia.
This will allow you to host your site in the best possible place, depending on the audience you are targeting. And thus reduce access and loading time as much as possible.
In our tests, we were able to achieve very good scores on GTMetrix and Pingdom:
Performance test carried out on GTMetrix
Performance test carried out on Pingdom
To give you a little background, it is good to note that the site tested and hosted by us at Hostinger includes no less than 18 plugins, a cache system (LiteSpeed), and all the images made available are optimized ( in order to reduce their size).
We reproduce these conditions for all the opinions and tests that we have to carry out. In conclusion, our Hostinger review is very good for anything related to performance.
You are really dealing with a fast and reliable host, the proof with the loading times recorded on GTMetrix and Pingdom (as well as the ratings assigned). All at an extremely competitive price.
Hostinger administration interface
Whether you are a novice or an expert in the field of the web, it is always appreciable to find a simple and above all clear administration interface.
Hostinger ticks both of these conditions without any problem.
Indeed, Hostinger offers an interface based on hPanel (which is an improvement of cPanel specific to the host) from which it is easy to navigate.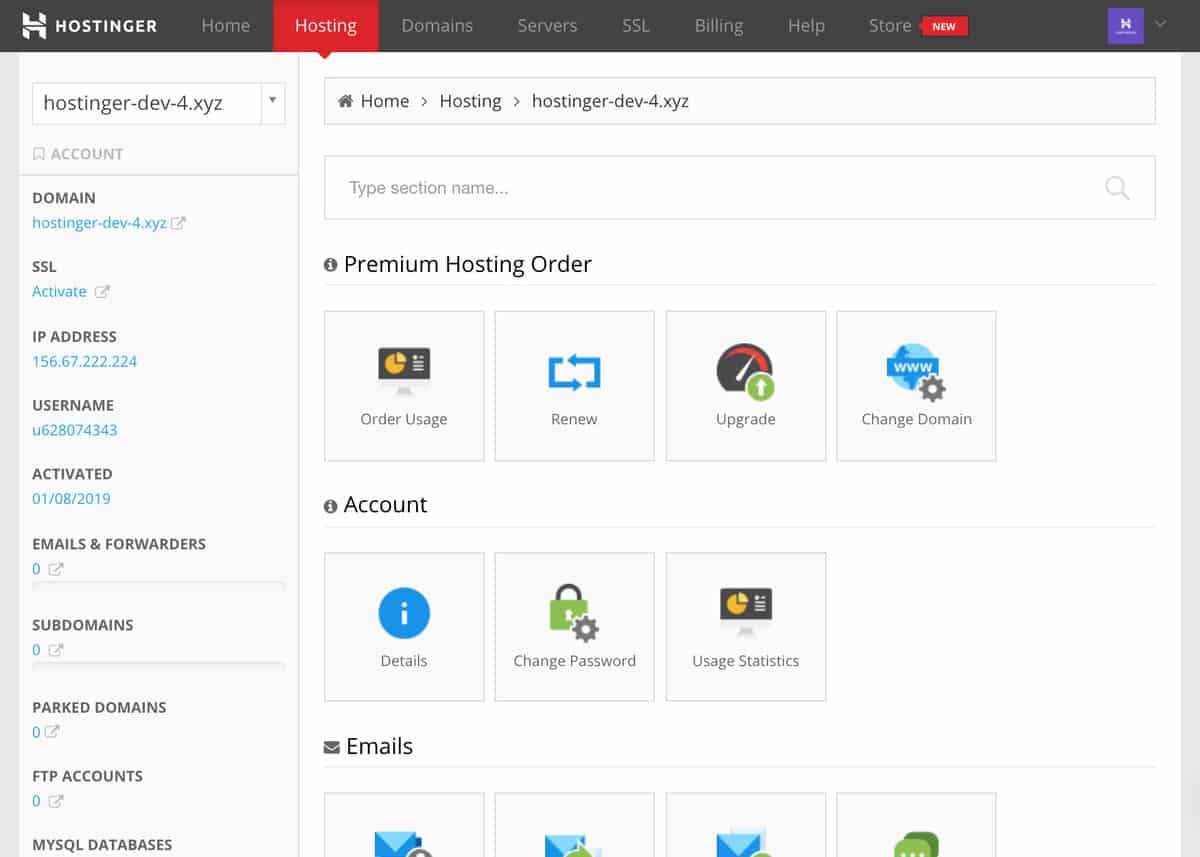 In just a few clicks, you will be able to manage your various accommodations, find statistics on their use, monitor connections to your account, view your invoices, or even get help from customer service.
If you want our opinion, because of its simplicity, there is no doubt that the administration panel offered by Hostinger will appeal to the greatest number of people.
We would also like to point out that thanks to a wizard, you will be able to create your site on WordPress, Zyro, or even WooCommerce in a few minutes: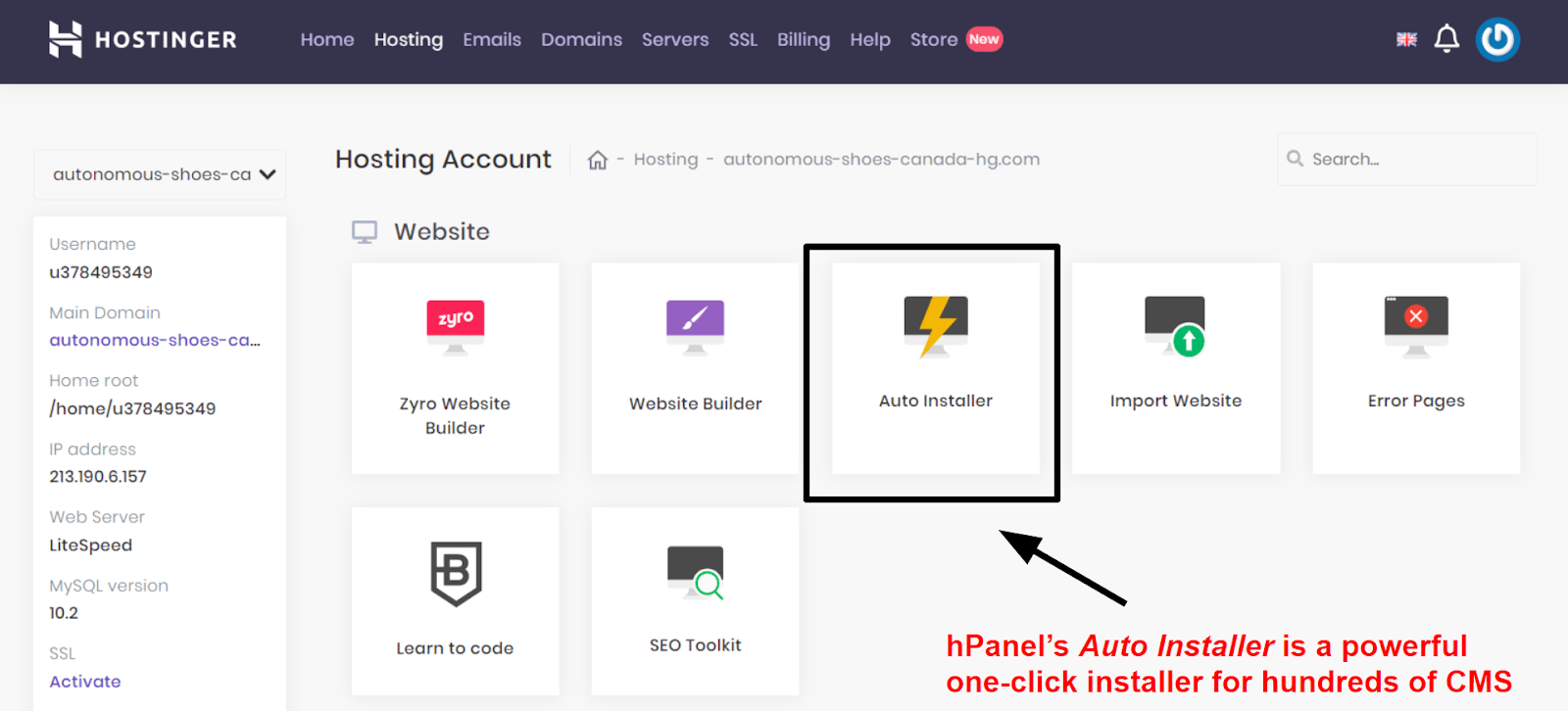 However, we noted a small shadow on the board. Some parts of the Hostinger admin interface are not or poorly translated. We hope that this will be corrected shortly by the host.
Security and protection
When you want to host a website, you really have to worry about security and the protection systems available. It would be silly to see your site degraded or completely unusable overnight.
This is why we are going to tell you in this section about our review on Hostinger, the tools offered by the host.
We were able to note the presence of:
Bitninja or Imunify360 (your choice to protect you from any type of attack/hack)
Smart firewall rules
Anti-DDoS traffic analyzer
Cloudflare protection (depending on the hosting plan you are going to take)
With all of this, you will be sure that your site will withstand the slightest attack or threat.
And as regards the security of your administration account, we were able to test the implementation of a double authentication system (A2F):
As you can see in the screenshot above, you will have the choice between authentication by application (Authy, LastPass), or by e-mail (at each connection, you will receive a confirmation code by e-mail) .
By opting for double authentication, you will guarantee your peace of mind and prevent your account from falling into the hands of dubious people.
Hostinger customer support
Even by choosing the best web host, we are never safe from failure. For this reason, before committing to a host, you must ensure the quality and especially the responsiveness of customer support.
Because yes, a problem that makes your site inaccessible for several minutes/hours can quickly become expensive! As part of the completion of this Hostinger review and test, we were able to ensure that the promises made on the site were kept.
Unsurprisingly, the support offered by Hostinger turns out to be very fast and above all… efficient. In a few seconds, you will be connected with a qualified agent.
And the very good surprise is that Hostinger offers customer service capable of answering you in French. Despite the fact that the company is mainly located in Lithuania.
So you won't need to bother conversing in English. As for the means of contact, you will have the choice between:
If you want our opinion, really give preference to the live chat feature provided by Hostinger. This will guarantee you a better response time, although in either case, you can expect 24/7 support.
It is also good to point out that a detailed FAQ is available from the "Help" part of your customer area.
Inside, you can find answers to common questions about configuration, installation, billing, confidentiality, security, or even domain names.
Our only small regret when it comes to Hostinger customer support is that, unlike other competitors, it is not possible to reach them by phone.
But this negative aspect is largely offset by the responsiveness and competence of the agents with whom we were able to interact during our full test.
Types of Plans and Pricing
Now that we have been able to address the subject of performance, administration, security, and customer support in this Hostinger review, we will be able to present to you all the hosting offers on offer.
And as you can see just below, there is no shortage of choice since you will have no less than 6 different categories:
E-Commerce
Shared web hosting
Cloud
WordPress
VPS
Minecraft
We suggest you find the details of each of these types of accommodation below. We will take the opportunity to specify to each to whom they are addressed.
E-Commerce
More and more people are looking to start an online store. It's a fact. By opting for Hostinger and its site creator named Zyro, know that the task will be greatly facilitated.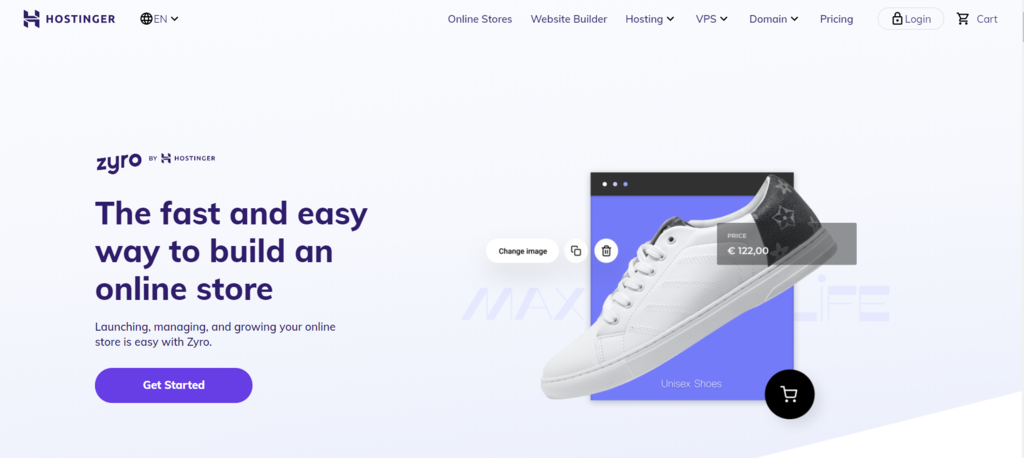 The difference is in the number of products that will be possible to display on your E-Commerce site (100 products against an unlimited number).
And unlike other competitors, no fees will be charged by the platform on each transaction made. You own the entire profit.
If you don't want to go through Zyro to create and manage your online store, you can always fall back on plans specific to PrestaShop, Magento, or WooCommerce CMS.
Who is this plan for:  Anyone who wants to start or continue their adventure in the world of E-Commerce. Whether you are a beginner or an expert, you will inevitably find your account among the different options offered.
Shared web hosting
We continue this "price" part of our review on Hostinger by telling you about the various shared hosting offers available. As you can see in the screenshot below, 3 plans exist: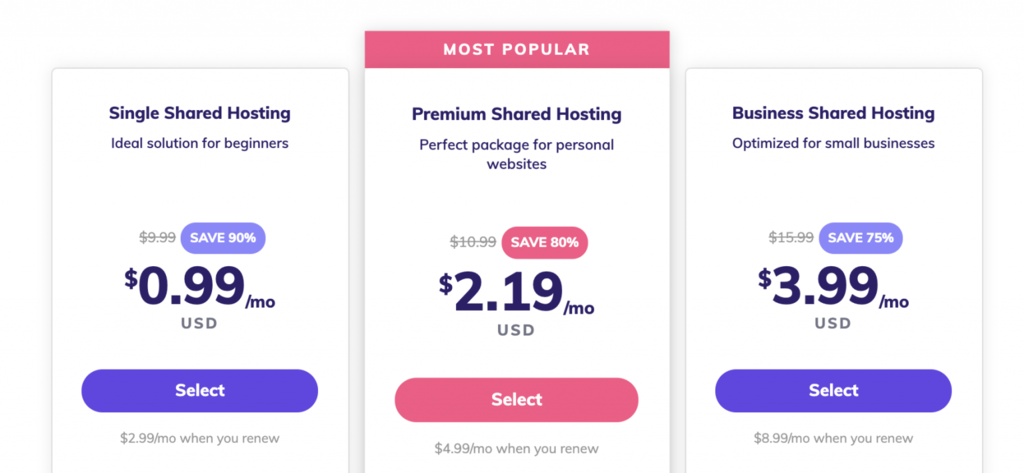 Each of them responds to a particular need. The single plan is the most suitable for starting a small personal blog.
While the Premium plan (plan with which we carried out this Hostinger review and test) and Business, already give access to more possibilities such as hosting several sites, access to unlimited bandwidth, a free SSL certificate, an unlimited number of SQL databases, etc.
Who is this plan for: People who want to start a personal blog or a small/medium-sized site. This is the perfect type of plan for anyone looking to start web hosting.
CPanel hosting
Hostinger has decided to further expand its hosting portfolio by making cPanel offers available.
Unlike shared hosting which is based on hPanel (a fork specific to Hostinger but which is based on cPanel), with cPanel hosting, you will have access to the cPanel administration interface.
As you can see in the image above, you can in both cases benefit from: 1 TB of bandwidth/month, 30 GB of SSD storage space, automatic backups, SSL certificates offered, as well as the possibility of obtaining a free domain name (provided you commit for at least 1 year).
Regarding the domain name offered, you will have the choice between a lot of extensions including .fr, .com, .net, etc.
The only difference between the two Hostinger cPanel hosting is the fact that via the Silver offer, you will only be able to host one site while with the Gold plan, you will be able to manage up to 50 different sites. .
It is difficult for us to give you our opinion because the choice will depend exclusively on your needs.
Who is this plan for: Those who want to take advantage of the cPanel administration panel while enjoying quality shared hosting.
Cloud hosting
As its name suggests, this type of hosting relies on cloud computing, all coupled with the simplicity of shared hosting.
Hostinger guarantees that this type of hosting is up to 3 times faster than traditional shared hosting. And in addition, all backend management will be the responsibility of the host, and not you or your teams.
The very big advantage of this type of offer is that everything is flexible. If your site grows, you will be able to grow your hosting in a few clicks. This also applies to allocated memory, disk space (SSD), or the number of CPU cores.
What will vary from one formula to another is the storage space, the RAM, or the number of allocated CPUs. Once again, we recommend that you visit the Hostinger site to see for yourself the specifics of each plan.
Who is this plan for: Hostinger cloud hosting primarily targets businesses that need large-scale projects.
WordPress Hosting
Once again, Hostinger offers 3 different plans when it comes to WordPress hosting. You will understand by its name, this type of hosting will only suit those who want to use this CMS. For others, turn to Cloud or shared hosting instead.
In order to determine which plan is best suited to your needs, try to determine your needs upstream as well as the future evolution of your business.
Who is this plan for: Those who only want to do WordPress and need servers especially optimized for the use of this CMS.
VPS hosting
The Hostinger VPS hosting part is the most provided. You will have the choice between 6 different formulas. To view the details of each of the offers, you can click on the image below.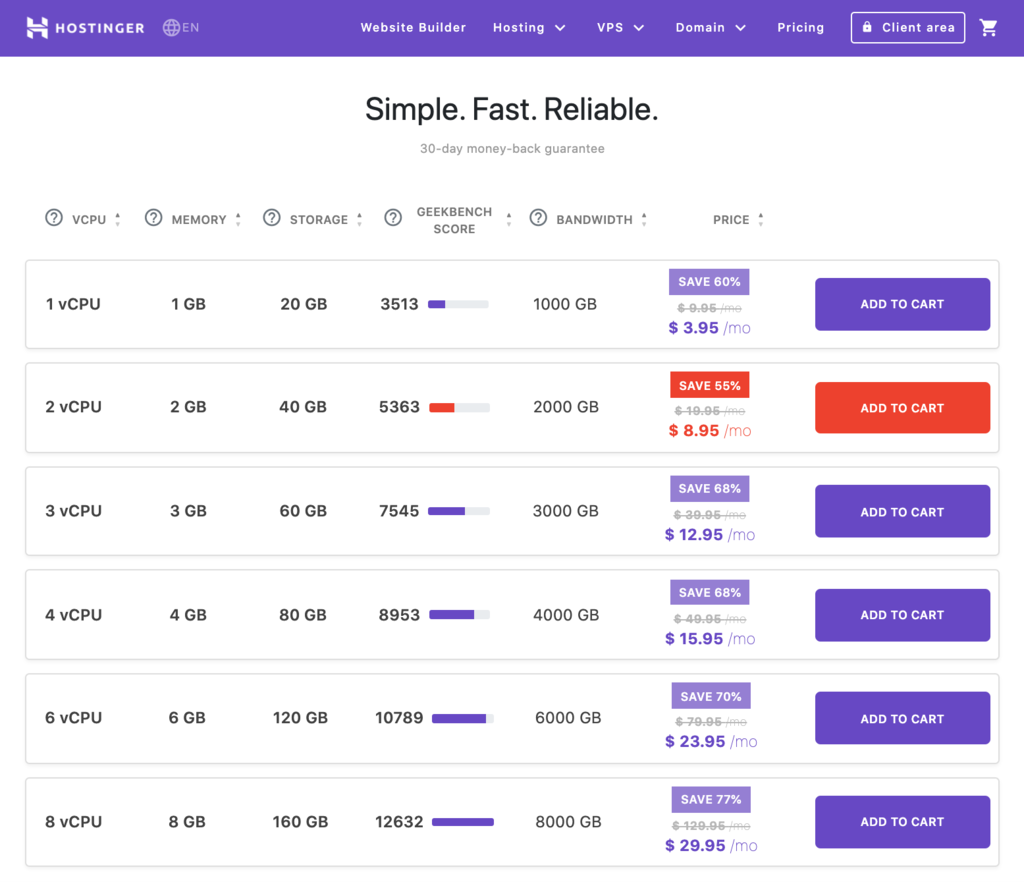 In any case, these 6 plans share a lot of similarities since each time you will have the right to a dedicated IP, a 100 MB / s network, as well as IPv4 and IPv6 support.
On the operating system side, Hostinger gives you the possibility to install and configure the following Linux distributions:
CentOS
Ubuntu
Fedora
Debian
Suse
Who is this plan for: as its name suggests, a VPS (Virtual Private Server) will allow you to benefit from a private but virtual server (based on Cloud technology).
This type of accommodation is particularly aimed at those with specific needs and looking for above-average stability.
Minecraft hosting
Are you a big Minecraft fan and want to take the plunge by creating your own Minecraft server? All without paying too much? Well if you want our opinion, with Hostinger it will all be possible.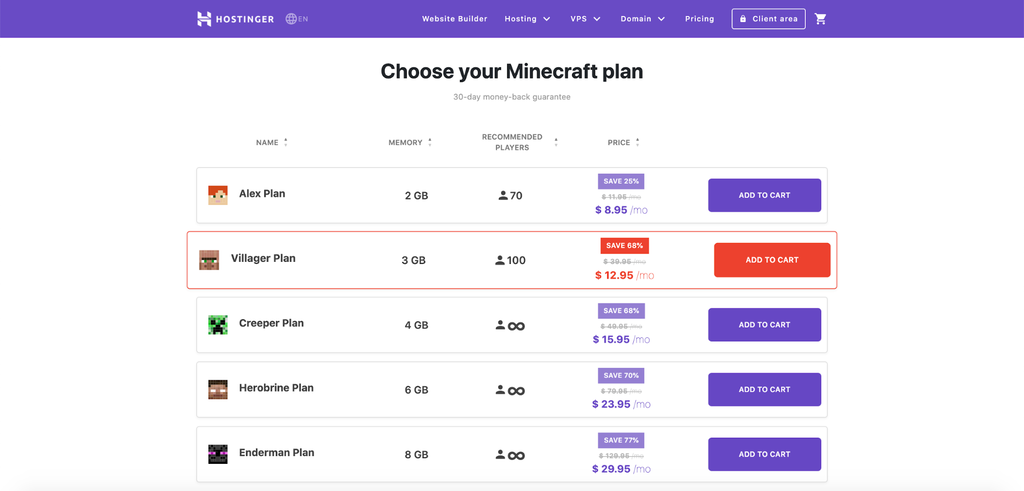 Through its 5 plans, Hostinger will allow you to obtain a quality Minecraft server and specially adapted to your needs (according to the population of this one).
Either way, you'll get DDoS protection, automatic external backups, and 99.9% uptime.
And of course, you will be able to take advantage of the 30-day money-back guarantee offered by the host (we provide you with more details about it a little further down in our Hostinger review).
Obtain a full refund in case of non-satisfaction.
Who is this plan for: Minecraft players who want to have their own game server without necessarily breaking the bank.
Additional information about Hostinger
Before concluding our full Hostinger review, we wanted to talk to you about a few more things about the host.
Free domain name
As we suggested in our presentation of the different accommodations and prices charged by Hostinger, in many cases you will be able to take advantage of a free domain name.
You will be able to register a domain name in:
.online
.shop
.tech
.site
.with
.xyz
.store
.website
.space
.me
.icu
.one
.press
.fun
.pw
.host
.info
.net
.link
.click
.help
The choice is substantial, even if we cannot help but notice the impossibility of registering a .fr domain for free. We will console ourselves with domain names in .com, .net, or even .info which are still widely used in the web domain.
You will also have the possibility to add protection of your personal data concerning the domain. This will prevent anyone from seeing your name, first name, or even your address by doing a simple WHOIS.
Free Hostinger web hosting
Quality hosts offering free hosting can be counted on the fingers of one hand. And Hostinger is one of them.
However, it is important that you know that this type of offer remains very limited. Its main objective is to allow you to discover the host and then switch to a paid offer.
With Hostinger's free web hosting, you will be entitled to 300 MB of disk space, 3 GB of bandwidth per month, the establishment of 2 SQL databases, or even the hosting of a single site. It stops there.
You will not be entitled to a free .com domain name, nor to unlimited performance and speeds. But this free hosting offer will at least have the advantage of allowing you to get a foothold in the field of the web and the creation/management of a website.
Backup management
During the realization of this Hostinger review, we discovered that for all hosting offers, you are going to be able to set up backups. The frequency of these will still depend on your choice of accommodation.
With the unit or Premium hosting offer (the first price offers), you will only be able to make weekly backups. On the other hand, from Enterprise hosting, you will have the right to daily backups of your website.
In any case, after having been able to test the backup process, we can confirm that the process is very simple. In just a few minutes you will be able to configure your backups. You can also force manual backups if the need arises.
Buying domain names
Like any self-respecting web host, Hostinger offers the possibility of registering and buying one or more domain names .
On the pricing side, we were pleasantly surprised by the prices offered. They happen to be more interesting than many other web hosts.
30-day refund period
Before going (already) to the conclusion of our Hostinger review and test, we had to tell you about the 30-day money-back guarantee offered. It is valid for all the services/products/plans offered on the site, with the exception of:
Renewal of a domain name
Protection of your personal data for a domain name
The "SEO Toolkit"
G Suite
To claim your satisfaction or your money-back guarantee, all you have to do is come forward within 30 days of subscribing to a Hostinger service.
The date that counts to calculate this 30-day period is the billing date (available in your personal space).
You can use the contact form or online chat to let customer support know that you want a full refund. The latter will accede to your request without even asking you for any justification.
As much to say to you that you do not have to worry about it at this level.
Final Verdict
Following our full Hostinger web hosting review, we can confirm that this is probably the best web host available on the market today.
Apart from the few errors/translation errors on the administration interface, the lack of dedicated hosting, and a phone number to reach customer support, we have not much to complain about.
No matter what type of hosting you choose, you will be sure to enjoy the above-standard performance. Thus, your success in the web world will depend only on you!
Are you already a Hostinger customer and want to share your thoughts? Or do you just have additional questions for us? In that case, please feel free to share this with us.